Orange County Archery Schedule
Gryphon archery club instruction & practice are open to beginning and experienced students (aged 7 and up). Gear is available to borrow. Practice is currently held at Santiago Park Nature Reserve Archery Range. The archery range is about 100 yards down the driveway from the Nature Center building. The range is open to the public, so please be mindful of other archers.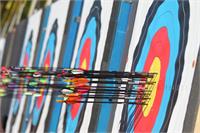 Archery instruction & practice will be held on Saturdays 1-2pm and 2-3pm
The archery range has shade and seating.
We will provide gear for any student who needs it.
Monthly fee is $70 for once a week.