"Hey this is actually kind of fun, I like this!" were Colton's first impression of fencing when he started in 7th grade.  "I like the fast pace and the intellectual aspect of the sport.  It is a 'thinking-man's sport!"  Colton likes the tough work-out, need for focus and competitive elements of fencing.  "The coaches at Gryphon are great!  They are prompt to correct errors and I am always learning something new."  Colton added, "My classmates are nice and there are some really good fencers here that challenge me."
Terri, Colton's mom, says, "He tried tennis, soccer, basketball and hockey, but fencing was the first sport he really liked."  She likes Gryphon for our flexible schedule and the encouraging/nurturing atmosphere.  "Gryphon is an intellectual place", she said.  "My son gets a dose of history, literature, and philosophy tossed in with each of Coach Holmgren's classes.  It keeps Colton engaged and he feels comfortable with his peers."  Terri adds, "I am happy that Colton is doing a physical activity that he likes.  Gryphon is a very welcoming place."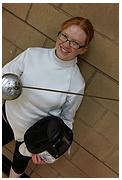 To me, fencing is more than a cool hobby.  Besides being a great form of physical exercise, fencing makes me think; about myself, my opponent, and the situation.  It keeps me humble like nothing else.
I've met some of my best friends through fencing, pushed myself harder and further than I would have thought possible, and grown a lot as a person.
The days can be long, and sometimes my muscles feel like they'll never move again, but it's worth it.  I wouldn't trade it for anything!

I came late to the sport of fencing and was somewhat apprehensive at beginning rather late in life. However, the coaches and members of Gryphon Fencing Studios quickly allayed any doubts about my decision to begin. I've been pleased both with the initial introduction to the sport and my development as a fencer. The coaching staff is qualified to instruct students of varying abilities, ranging from beginners to competitive fencers. Members of the club are helpful in refining technique through drills and work on the strip. I've been quite pleased with the experience!

I am a 72 year-old boy playing with swords!
I fenced for a few years in college, but stopped when career, marriage and family came along.    By chance, I saw a local fencing class and resumed the sport when I was 60.  I loved it and remembered how much fun it was in college!  The electronic saber was something new and exciting to me.
I began competing in the "60 years and older" category.  I was practicing a few times a week and taking lessons from George Clovis (now retired from Gryphon), and more recently from Eric Holmgren.  Competing nationally gave me the chance to make friends all over the U.S.  I have represented the USA internationally at the World Championships (2013 & 2014) Men's Saber 70 & older.  This has been a wonderful experience and I have fencing friends in Europe and beyond.
Fencing has helped me to stay in shape and live a healthy lifestyle.  Fencing is a great physical and mental work-out.  I have to stay mentally sharp and focused to beat my opponent.  I like the problem solving part of the game…heck I am an engineer!
What I like best about Gryphon is the friendly atmosphere and how generous the coaches are with their time and advice.  Everyone there is respectful, hardworking and caring.  At Gryphon, the students come first.  It is worth it for me to drive there from Bakersfield every week for a lesson and practice!
                     It is never too late to start!

Megan had done ballet and karate for many years when she was a kid, but she was looking for a new challenge. She and her brother liked playing Jedi light saber fighting, so she thought, "Hey, let's try fencing." So in 9th grade, she started taking classes and a weekly private lesson with Coach Cory. "Fencing is a mental AND physical game, so I feel more accomplished," said Megan. Her reasons to recommend fencing, "It is a lot of fun and you get to make new friends…plus colleges are interested!"

"I started fencing in the kid's class to support and encourage my daughter.  I liked it so much that I joined the adult women's class.  I like that fencing is an individual sport.  I like that you can get into it quickly and start enjoying the game, and I like that is good work-out both mentally and physically.
What I like about Gryphon is that they offer lots of classes to fit your schedule and the coaches are sincere and they can connect with their students.  They keep the sport fun and keep the students engaged and challenged."
Come join and throw down the gauntlet!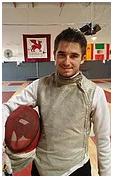 My name is Algird Szumlas, and I started fencing under Bard Smith when I was still in middle school, where he would give free lessons and classes to students in an effort to spread the joy of the sport. Obviously he was successful, because 7 years later, I am still training, competing, and having a thrill doing it. I used to do the "normal" sports including soccer, tennis, volleyball, and so on, but as soon as I started to really fence and understand the art, I dropped these sports I had been doing all my life to pick up this new fascinating one. I realized that fencing had so much more to it than I initially had thought; It is a game of physical chess, a battle of wits, and a test of endurance all in one stylish sport, and it is something that will stay with me for the rest of my life, even in old age. Not only will it give me teaching opportunities and healthy habits later on in life, but the community of fencing is so tightly knit and long-lasting, that I've formed a sort of family. Gryphon Fencing is a club that is, I believe, unparalleled in that regard. No matter what, I've always been welcomed here, loved its atmosphere, and everything they stand for. The most unique aspect of Gryphon is its extremely friendly and talented coaches who constantly seek out new ways to teach, recruit fencers, and expand people's worlds – of all ages. If I had a place to call home in the fencing world, it would have to be Gryphon Fencing.

"Fencing is very strategic, like a game!" says Cormac.  "I find the footwork and keeping good form the most challenging.  I like the style of the coaches at Gryphon, they are prompt to make corrections.  Fencing is really fun, I love it!" 
Neil, Cormac's dad, says "Fencing has improved Cormac's discipline.  It is the first sport he has taken to and stuck with.  Cormac has a very active imagination and he is more academically inclined.  Fencing strategy allows him to combine this mental strength with physical activity.  Gryphon has great coaches who work well with the kids and give them individual attention.  I recommend Gryphon to any parent who wants to expand their child's stamina and make them a more well-rounded person.   If you are looking for something cool and different, this is the place to come!"